Corporate Brochure: www.cyforcorporatebrochure.com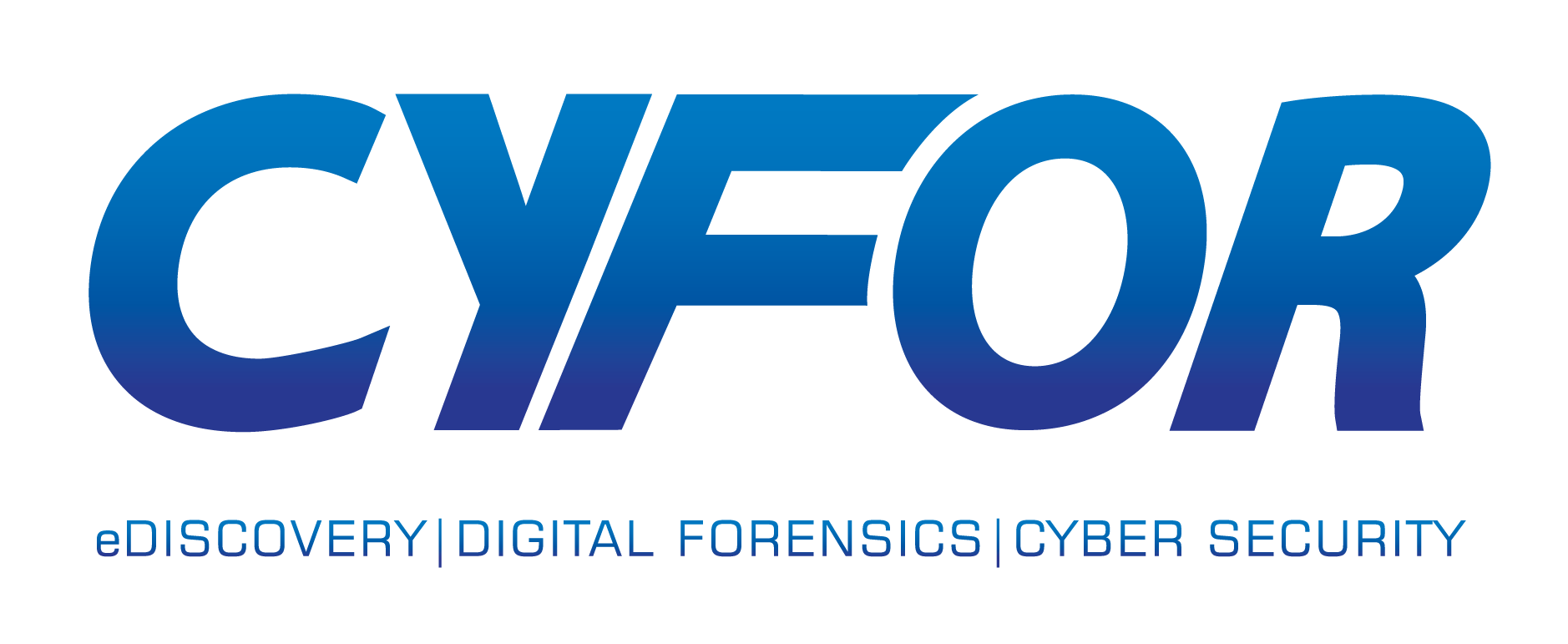 Operating globally, CYFOR is a leading eDiscovery, Digital Forensics and Cyber Security provider, with expertise in advanced data analytics and data recovery. These specialisms extensively cover commercial, criminal and corporate investigations, as well as litigation and dispute resolution matters. CYFOR's ability to combine advanced forensic techniques and eDiscovery workflows, provides a leading edge, with a proven capability from extraction through to production.
Individually, CYFOR's expert analysts are recognised as some of the leading specialists in the industry. As a team, their combined expertise becomes even more powerful for the most complex of cases.
CYFOR are instructed by clients from a full spectrum of industries and offer a bespoke solution on highly contentious, multi-lingual and multi-jurisdictional matters with time critical deadlines. This breadth of experience, combined with a highly secure infrastructure enables CYFOR to operate at the highest level on a vast range of investigations.
eDiscovery
For more than 15 years the CYFOR name has represented a rigorous technical approach to the eDiscovery process, as well as a practical understanding of the ever-changing demands of commercial litigation. Our ability to combine advanced forensic techniques and eDiscovery workflows provides a leading edge, with a proven capability from extraction through to production. This expertise allows for the successful completion of regular instructions on highly contentious, multi-lingual and multi-jurisdictional matters, with tight court deadlines.
Fixed Quoting Structure
CYFOR understand that producing information for review and analysis in response to disclosure requirements can be consuming and expensive. With over a decade of experience in eDiscovery we know it's essential to have a handle on costs. That is why we provide transparent, concise and easy to digest fixed price quotations. This not only helps your clients predict costs but also enables the eDiscovery process to be applied to smaller cases on an investigatory basis.
eDiscovery Technology
Strong partnerships and full certification with 'best of breed' eDiscovery software vendors such as Relativity and Nuix, enables CYFOR to provide a full suite of services for the disclosure of electronically stored information (ESI). This full spectrum of review platforms allows for vast amounts of data to be processed and disseminated in the most complex of investigations.
Secure Infrastructure
We understand the importance of security in both our corporate practices and in the work undertaken for clients. That is why our extensive infrastructure is ISO 27001 accredited, the internationally recognised framework for best practices in Information Security. This allows for the scalability of our eDiscovery service within complex investigations. Providing you with a proportionate, defensible and repeatable solution, as well as the tools and managed services to ensure your requirements are met.
People
Individually, CYFOR's Digital Forensic and eDiscovery personnel are recognised as some of the industry's leading specialists. We take great pride in our eDiscovery team, who are Relativity Certified Administrators and experts in Relativity Analytics & Technology Assisted Review. As a collective, their combined expertise becomes even more powerful for the most complex of cases, while going above and beyond to exceed client expectations.
Digital Forensics
Recognised as industry experts, Digital Forensics has been at the core of CYFOR's service offering since our inception in 2002. With a comprehensive range of proven forensic capabilities, we are instructed on a vast range of cases. We have the expertise to recover, analyse and present digital evidence.
Digital Forensic Experts
CYFOR's Digital Forensic personnel, consisting of ex-military and law enforcement staff, are recognised as leading specialists within the industry. Strict adherence to the ACPO Guidelines and thorough digital forensic protocols ensures comprehensive reporting, often concluding with expert evidence presented in court.
Industry Experience
With over 15 years of expertise, we are in the position of having experience working for both the defence and prosecution. This allows a perspective into the challenges and goals faced by each party and therefore how best to work in the interests of our clients.
Rapid Response
Our team of specialist criminal case managers are acutely aware of the sensitivity and time critical nature of instructions. That is why we operate a 24-hour turnaround on quotations, while informing clients of developments at each stage of the case.
Investigations
CYFOR have provided forensic investigations internationally including numerous high profile cases that include (but are not limited to)
• Fraud
• Terrorism
• Indecent imagery
• Drugs
• Murder
Digital Forensic Services
• Computer forensics
• Mobile phone forensics
• Cell site analysis
• Call data record analysis
• Audio visual forensics
• Forensic readiness planning
• Onsite investigations
• Incident response
• Expert witness service
• Deleted data recovery
Cyber Security
Cyber Security has been at the core of CYFOR's services since inception. We understand that almost every business relies on the confidentiality, integrity and availability of its data.
CYFOR supports an organisation's cyber security strategy. This is achieved by establishing risks and ensuring protocols are put in place to improve practices, while raising awareness of cyber security.
Our information security specialists are qualified with vast experience in digital forensics. They understand the complexities of protecting an organisation's electronic data. When this is combined with an established cyber security strategy, you can be sure that your company's digital assets and data are safeguarded.
Our range of services are designed to expose potential weaknesses and security threats that could be exploited, including
• Cyber Security Audits
• Vulnerability Assessments
• Cyber Incident Response
• Penetration Testing
Our service offering allows businesses to apply remediation measures, reducing the possibility of
• Data breaches – including intellectual property & data theft
• Reputational damage
• Extensive loss of business revenue
• Investigations & regulatory fines (GDPR – 25th May 2018)
Contact us
Please contact one of our specialists on 0161 797 8123 to discuss your requirements in confidence. Alternatively, you can email contact@cyfor.co.uk and a member of the team will endeavour to respond within 1 hour of your query.