Mr Salam Alaswad LLM PGDip BSc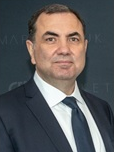 Forensic Financial Analyst
Expert Witness and Financial Crime Forensics, covering both civil and criminal cases as well as internal matters of mediation and arbitration, are provided by Salam Alaswad.
Acting as an industry advocate and expert demands comprehensive and practical industry knowledge, and an ability to apply it in acting with the utmost integrity to ensure a court or other judiciary systems receives a clear and independent expert opinion.
Mr. Alaswad holds a Master of Laws (LL.M.) in Financial Regulations and Compliance, with 20 years of senior management experience including multinational experience in the City of London and overseas, all around Contracts for Differences (CFD) and Forex (FX) trading. This extends to a significant practical knowledge in the day to day operations, strategic planning, and risk management.
Salam Alaswad served as the registered Compliance Officer and Money Laundering Reporting Officer (MLRO) for a London based FX and CFD firm.
FCA approved for controlled functions; CF1, CF1(AR), CF3, CF3 (AR), CF30, CF29, CF10, and CF11.
Professional Description
Forensic Financial Analyst
Qualifications
LL.M, PGDip, B.Sc
Areas of expertise
Contracts for Differences (CFD)
Forex (FX)
Spread Betting
Retail investment products
Financial derivatives
Fraud and Financial crime
Anti-Money Laundering (AML) arrangements and cross-border fraud
Suspicious bank transfers involving onshore, offshore, and shell companies
Hedging techniques and risk management strategies
Poor execution and manipulation of the market bid/ask prices
Mis-selling of complex financial products; Forex, CFDs, and other financial derivatives
Expert Witness training
Criminal Experts Law and Procedure - Bond Solon
Excellence in Expert Witness report writing – Bond Solon
Courtroom Skills for Expert Witness – Bond Solon
Civil Law and Procedure – Bond Solon
Cross-examination – Bond Solon
Solicitors, barristers, and other members of the judiciary system in the UK or globally are invited to get in touch directly with Salam Alaswad to discuss his Expert Witness services by emailing him on salam.alaswad@fxandcfd.com or by completing the REQUEST FOR SERVICE form.