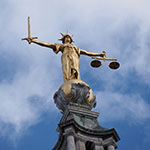 In the largest ever survey of legal needs in England and Wales, more than 8,000 people responded to questions about how they dealt with a range of legal issues. The survey was conducted by Ipsos MORI for the Law Society and the Legal Services Board.
Legal issues raised included wills, probate, conveyancing, consumer rights, arrest, debt and more complex legal concerns, such as relationship breakdown.
Over half of those who responded (54%) had experienced at least one legal issue in the past three years.
They were most likely to have had a consumer rights issue, bought or sold a home, made a will or dealt with the estate of a deceased relative. Disputes with neighbours, problems with benefits, debt/money problems and problems with an employer were also common issues. Only 3% had been arrested.
Over three quarters of the respondents who chose to seek advice were satisfied with both the quality of formal legal advice given (77%) and the outcome (78%). Two thirds of the issues raised in the survey were not initially thought of as 'legal' issues.
Law Society president Jonathan Smithers commented: "This survey highlights the benefits of obtaining expert legal advice, the need to raise awareness among the public of legal issues and how people can access legal advice when they need it. Access to legal advice is a fundamental right, essential to democracy and a cornerstone of justice."
The survey also revealed that awareness of legal aid eligibility is low. People surveyed did not understand which issues were covered by legal aid and how to get advice on issues.
Jonathan Smithers continued: "The survey reveals the complexity and diversity of legal needs. It provides information and insight to solicitors that will support their continued efforts to improve their services and better meet the legal needs of the public."
The chairman of the Legal Services Board, Sir Michael Pitt, said: "Access to justice is a fundamental right but many people do not seek legal advice for a variety of reasons. Lack of information on legal rights and what legal services are available and the assistance they could provide, as well as preconceived expectations of the cost of legal services, are among the main factors that influence whether legal advice is sought."