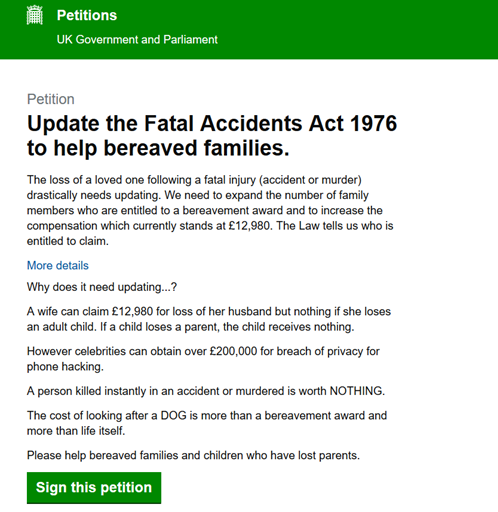 When a loved one is unlawfully killed in England and Wales due to an accident on the road or at work the law is unjust and outdated. One example is if a parent loses a child, the usual award will be a pitiful bereavement award and the return of 'reasonable' funeral expenses. The usual compensation award for a loss of a child is about £15,000. The old adage that 'it is cheaper to kill' is true here. The value of life, a child, is worthless. There are many other examples of the law getting in the way of justice. Motor vehicle insurance companies are happy for this unjust law to remain. We are not, the law needs to be modernised and updated as a matter of urgency. Scotland has a different laws that are much fairer to bereaved families. We need something similar to our barbaric laws.
The Law Commission – recommends Change
In the Law Commissions' report, November 1999 made proposals to modernise the Fatal Accidents Act 1976 and to increase the bereavement award to bring the legislation into line with the values of modern society. Further proposals were put forward to render the law fairer and more certain than it is at present. Unfortunately the recommendations have not been implemented causing unnecessary hardship and distress to bereaved families who have lost a loved one to due to a fatal accident in England & Wales.