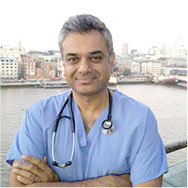 Mr Kulvinder Lall is one of the United Kingdom's leading cardiac surgeons. Qualifying in 1989 from the University of London he has trained in Cardiothoracic Surgery in London, Glasgow and Sydney. He was appointed to St Bartholomew's Hospital as one of the youngest cardiac surgeons in the UK aged 36. As an NHS Surgeon he has performed in excess of 5,000 heart operations with outstanding results as measured by the Care Quality Commission and the Department of Health.
Mr Lall has been producing medico legal reports for the past five years in cases involving all aspects of cardiac and thoracic surgery. These reports include aspects relating to surgical care and those following trauma to the structures of the chest.
Mr Lall can act on behalf of either claimant or defendant or as a Single Joint Expert. Turn around time for reports is 20 working days or less depending on the complexity of the case.