Dr Giles Elrington MBBS (Hons) MD FRCP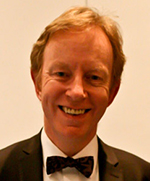 Consultant Neurologist
Dr Giles Elrington is a Consultant Neurologist with an administrative base at 44 Lexden Road, Colchester, also rooms in Harley Street London & Southend, specialising in clinical diagnosis and medical management of neurological conditions.
Dr Elrington accepts expert witness instructions, including the preparation of medico legal reports and appearing in court, in personal injury, medical negligence, family and employment cases relating to his specialist areas of expertise. These include:
• General Neurology
• Headache
• Migraine
• Epilepsy
• Multiple Sclerosis
• Neuropsychiatry
• Parkinsons Disease
• Rehabilitation
• Spinal and Peripheral Nerve Disease
Dr Elrington has consulting rooms at Zen Clinic in Colchester, Spire Wellesley at Southend-on-Sea and Harley Street, London.