Mr Stuart A Metcalfe BSc (Hons) MPhil FCPodS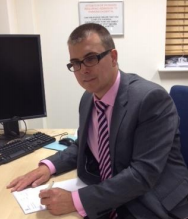 Consultant Podiatric Surgeon
Mr Stuart Metcalfe is one of the UK's leading experts in the field of podiatry and podiatric foot surgery with 14 years' experience in the field of foot pathology/foot surgery and having performed well over 15,000 operations. He is currently clinical lead in podiatric surgery for Solent NHS Trust specialising in foot and ankle surgery.
Mr Metcalfe has 10 years' experience as a medico-legal expert witness with more than 60 reports concluded, in medical negligence and personal/industrial injury cases involving his specialist areas of expertise. These include:
• 1st MTPJ joint replacement
• Achilles
• Ankle
• Ankle block
• Arthritis (foot)
• Arthroereisis
• Bunion surgery
• Children's feet
• Diabetic foot
• Digital surgery
• Flat feet
• Footwear
• Forefoot surgery
• Gait analysis
• Hallux valgus surgery
• Hallux limitus
• Hammer toe
• Heel pain
• Joint replacement (feet)
• Joint fusion
• Local anaesthesia
• Morton's neuroma
• Plantar fasciitis
• Nail surgery
• Neuroma
• Regional nerve blocks
• Toe surgery
• Ulceration
Mr Metcalfe lectures nationally and internationally in the field of foot surgery and related topics. He has contributed to the development of NHS clinical practice guidelines and has served as an independent advisor to NICE.
He is widely published with over 25 publications and is the author of a core text on injection therapy of the lower limb. His current postgraduate research is looking at the impact of flat feet in children using gait analysis techniques.
Mr Metcalfe practises privately at Harley Street in London and at the Spire Hospital in Birmingham.