Dr Eveline B Knight-Jones MB BS DRCOG MRCP FRCPCH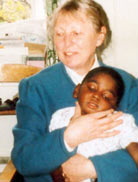 Consultant Paediatrician
Dr Eveline B Knight-Jones has been acting as an Expert Witness since 2002 after completing a Bond Solon course. In 2015 she did further training, namely a course run by the Royal College of Paediatrics and Child Health in conjunction with Bond Solon on Expert Witness in Child Protection and an advanced course also run by RCPCH on Safeguarding/Child Protection Levels 4 and 5.
Her specialist work as a Paediatrician is to assess and diagnose children with neurodevelopmental problems including:
• Cerebral Palsy
• Epilepsy
• Learning Disability
• Specific learning difficulties such as Dyslexia
• Autistic spectrum disorders including Asperger's Syndrome
Her work also covers milder problems such as Developmental Co-ordination Disorder (also known as Dyspraxia), Attention Deficit Disorder and other less common problems and disabilities.
Dr Knight-Jones' general paediatric experience, both in hospital and in the community for child protection, enables an opinion to be given on a wide range of more general paediatric problems, including neglect.
Her initial training and specialist qualification was in adult medicine which is of use in evaluating medical information on adults, for example the medical problems of the parents.
Dr Knight-Jones produces, on average, two reports a month, usually on complex cases. She has undertaken reports to courts on children with the above disorders, on behalf of both complainants and defendants, including court appearance. Referrals are either:
Personal Injury/Medical Negligence claims, involving children with neuro-disability, slightly more than half for claimant.
Child Care Proceedings requiring an opinion on a wide range of general paediatric problems, usually including a neurodevelopmental aspect. Usually as a Single Joint Expert.
A very small number of Criminal cases. She did the paediatric overview report for a case reported on in The Times on July 29 2016 (page 22).
To see Dr Knight-Jones' full CV click here