Please quote: YEW
Mr Fortune Iwuagwu MBBS MSc. (Lon) FRCS (Glas) FRCS (Ed) FRCS (Plast Surg)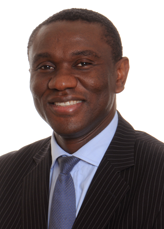 Consultant Plastic, Reconstructive and Hand Surgeon
Mr Fortune Iwuagwu has over sixteen years experience in the fields of cosmetic and reconstructive surgery, with specialist knowledge in the areas of breast reconstruction, hand reconstruction, skin cancer surgery and body contouring procedures.
Mr Iwuagwu can provide medico-legal reports in all cases resulting from plastic surgery.
His specialist areas of expertise include:
Scars - following burns, assaults, work related injuries, surgery, falls etc
Hand injuries
Breast reconstruction
Soft tissue injuries
Deliberate self-harm
Mr Iwuagwu can act on behalf of either claimant or defendant and has been preparing medico-legal reports for medico-legal agencies and solicitors for over ten years. The process from instruction to completion of a report takes approximately four weeks, depending on if the client and medical records are available for examination and review.
He has attended Bond Solon courses in 'Excellence in Report Writing' and 'Written Evidence'.
Consulting rooms in London and Essex:
Spire Roding Hospital, Roding Lane South, Ilford, Essex IG4 5PZ
Springfield Hospital, Lawn Lane, Springfield, Chelmsford CM1 7GU
Nuffield Hospital, Shenfield Road, Brentwood CM15 8EH
St Andrews Centre for Plastic Surgery, Broomfield hospital, Chelmsford CM1 7ET
London Independent Hospital, I Beaumont Square, Stepney Green, London E1 4NL