Consultant Obstetrician & Gynaecologist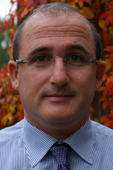 Dr Aquilina has been a consultant obstetrician and gynaecologist for the last 21 years. His main areas of interest are general obstetrics and gynaecology but has a special interest in obstetric ultrasound, fetal medicine, gynaecological scanning, menstrual disorders, hysteroscopic surgery, HRT problems and pelvic pain.
Dr Aquilina is a GMC accredited expert witness and has been doing regular medico-legal work for last 10 years and to date is the author of over 250 reports. He has extensive clinical governance experience with management of gynaecology SUI's in his role as chair person for 6 years of the Gynaecology Governance Board at St. John and St. Elizabeth hospital.
He is currently a Fellow of Royal College of Obstetricians and Gynaecology, The Faculty of Expert Witnesses and is the Associate Editor of the Women's Health Edition of Current Opinion in Obstetrics and Gynaecology a position he has held since 2007.