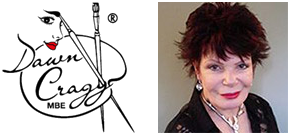 Previously at The London Medical Centre, Harley Street, Dawn Cragg is fully qualified in micropigmentation treatment and removal. As well as practising and teaching at her company M.T.E.C. Ltd in Retford, she also holds a license to practise in Westminster.
The treatments (also known as permanent cosmetics) provide enhancement of the eyebrows, eyeline and lipline by the subdermal implantation of tattoo pigments. It is also used to provide post-surgical treatments to redefine areola, camouflage scar tissue and treat vitiligo (in remission) and alopecia.
Dawn frequently undertakes instructions as an expert witness in negligence cases resulting from incorrecly applied permanent make up.
She herself has had to remove or correct procedures that were done elsewhere with which the clients were dissatisfied. This has included the removal or correction of black liplines, eyeliners that were too thick, eyebrows that had turned blue, green or red, and a lot of uneven lines around the eyes or the lips.
Dawn is a member of the British Association of Skin Camouflage (BASC) and a Cardiff University accredited Expert Witness (CUEW)