Established in 2000, Laird are an Expert Witness services firm supporting the Legal sector across the UK. They understand the importance of providing an efficient and seamless customer journey and review their processes continually to ensure that they achieve and surpass expectation levels daily.
With constantly evolving IT systems and exceptional customer service, Laird are leading the way in the Expert Witness sector. You can instruct with the click of a button via their website and will be kept up to date at every stage of your case.
Laird have three main areas of expertise:
Automotive Experts
• Vehicle Damage Reports
• Low Velocity Impact
• Diminution in Value
• Desktop Reports
• Vehicle Valuation Disputes
• Accident Reconstruction
• Pre and Post Repair Inspections
• Vehicle Data Check
Photography Experts
• Locus Reports
• Personal Injury Photography Reports
Language Experts
• Interpretation
• Translation
• Witness Statements
• Document sign up service
Automotive Services
Clients are contacted within one hour of instruction, the vehicle will then be examined anywhere in the UK within 48 hours, and a comprehensive accident damage report with images is produced within 24 hours of examination. The status and event list of any instruction can be tracked via a secure portal on the website, where copy reports, letters and images can be downloaded.
Whilst our standard vehicle accident damage report is our most popular service, we also prepare the following reports: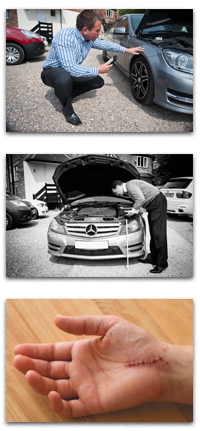 Diminution in Value
We assess repaired vehicles to determine the likely drop in value due to accident damage and subsequent repairs.
Low Velocity Impacts
We investigate what effect the impact has caused upon the vehicle and occupants to determine the direction, acceleration and magnitude of any movement.
Locus
Our locus reports include full colour images showing views from the claimant, defendant and witnesses with a full locus description including street layout, speed limits, measurements and sketch plans.
Injury Photography
Clients' injuries are photographed using high quality cameras and include identification, measurement and multiple injury images compiled into a CPR compliant report.
Fraud Investigation
Forensic examination of one or more vehicles is carried out to determine whether the damage is consistent between the vehicles involved and the accident circumstances.
Accident Reconstruction
We provide a full range of reconstruction services ranging from minor mathematical analysis to determine a particular piece of data (e.g. impact speed, likelihood of rolling back to a certain speed) through to a fully interactive 3D animated reconstruction.
Other Reports
Other services include desk top analysis, assessments, authorizations, salvage disposal, video imaging, post-repair & pre-purchase inspections, body, paint & mechanical problems anything to do with a road traffic accident.
Our engineers are highly qualified and experienced in the accident repair and insurance industry and are practiced expert witnesses, supporting the contents of their report in Court whenever required. Specialised administration teams provide superb backup and assistance to clients, backed by a comprehensive IT infrastructure utilizing industry standard software from Glass's, Audatex and Thatcham and linked to databases such as the DVLA and HPI. Our system can also be linked to most of the popular claim management systems to ensure accurate and fast data transfer.
Visit www.laird.expert or email business.development@laird-assessors.com for a quote or more information.