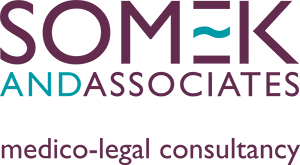 Somek & Associates is one of the largest providers of Expert Witness services in the UK, with over 200 highly professional trained experts in a range of healthcare disciplines: Occupational Therapy, Care Experts, Physiotherapists, Speech and language Therapy, Nursing, Midwifery and other key health professions. Their depth and breadth of experience covers all types of personal injury and clinical negligence matters, as well as other medico-legal and regulatory needs.
Alison Somek is CEO of Somek & Associates. She set the company up in 1997, having worked in the National Health Service for over 20 years, as an occupational therapist. She has been writing care and occupational therapy expert witness reports since the 80s. Alison has always been passionate about professionalism and independence, and continues to ensure that this, and the integrity of the expert witness, is embodied in the work of the associates and, the company as a whole.
Somek experts are selected following a robust recruitment process and are required to attend an extensive training programme, covering topics from the role of the expert witness (including CPR Part 35) to Courtroom skills.
All Somek experts continue to undertake clinical practice in either statutory or independent settings, and importantly maintain their CPD.
Somek boast a balanced portfolio of claimant and defendant instructions in equal measure. Professionalism, objectivity, independence and understanding of legal principles and tests as well as relevant procedure rules (especially CPR 35), are all key factors that has led to Somek's outstanding reputation in their field. They also accept instructions on a single joint basis.
Somek & Associates offer competitive fees including deferred payment terms when required. Fee estimates and guidance for costs budgeting is provided upon request.
Contact Somek today for a discussion of your specific case needs.