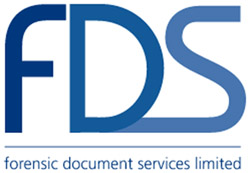 Forensic Document Services Limited is equipped with sophisticated instrumentation to carry out techniques used in the forensic examination of documents. All techniques employed are non-invasive.


Civil and Criminal related work is undertaken and areas covered include -
• Commercial/Employment Litigation
• Banking
• Probate
• Professional/Medical Negligence
• Shipping
• Intellectual Property

Clients include -
• UK/International Law Firms
• Local/Central Government Agencies
• UK/International Financial Services Organisations
• Private and Public Companies
The laboratory is based in a secure office with a fire resisting document safe for storage.
Matters are dealt with in strict confidence. Estimates provided on request. Legal Aid work undertaken.

A number of sophisticated techniques are employed and expertise in the following areas provided:
Handwriting - scientific comparison to establish whether or not writings were made by the same person
Signatures - comparison to determine genuine or forgery


Detection of indented impressions by the ESDA technique - to establish a link between documents/find evidence regarding a document's 'history'
Dating - examination/comparison to determine whether a document was prepared on a purported date/period in time
Establish the sequence of writings
Decipherment of alterations, erasures, additions and obliterations
Typescript - comparison to identify common machine/printer
Examination of forged/counterfeit documents
Comparison of inks by Video Spectral Comparator
Examination/comparison of watermarks, postmarks and stamped impressions
Reassemble torn, damaged or shredded documents
Determine whether photocopied documents were produced on the same machine and/or specific machine