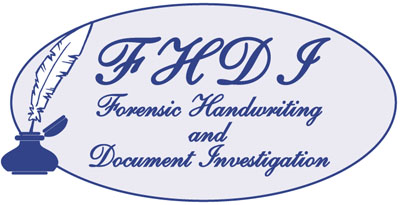 FHDI has been in business since 1998 for the examination of documents & handwriting
to determine authenticity
to expose forgery
to reveal aspects of origin
We provide an Independent Document Examination service, giving unbiased professional advice for criminal or civil litigation, and internal disputes, to solicitors, large companies and the general public.
This includes:
Handwriting - The examination/comparison of questioned handwriting
Alterations - The examination of erasures, alterations and obliterations to help reveal the original entries
Indentations - The detection of indented impressions to aid in identifying the author of anonymous letters etc
Authenticity - The examination of documents to establish authenticity.
Typical cases include: Fraudulent Wills - Anonymous Letters - Tick Lists - Disputed Contracts - Fraudulent Driving Licences
FHDI uses scientific equipment including Electro Static Detection Apparatus and Mi-Scope - the digital microscope that fits in the palm of your hand (below right) - to perform all the necessary document examinations. This provides an extensive range of expertise, which can be put at your disposal.

No forensic investigation job is too big or too small for our trained professionals. The team now includes Catriona MacDonald who has a Masters Degree in Document Analysis and now undertakes casework for FHDI.