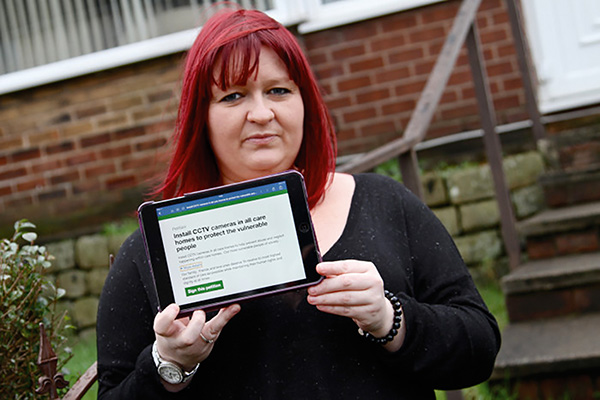 An online petition calling for CCTV to be installed in all care homes across the UK has notched up 10,000 signatures, the point at which the government is required to provide an official response.
Lisa Smith (pictured) created the petition in January, having taken her 86 year old father Joshua out of care after four years, claiming his life had been a 'living nightmare' during that time due to poor care.
"I'm delighted and really made up that so many people have signed the petition, and that the whole issue of care home abuse and neglect is being placed into the spotlight and being discussed," said Lisa.
"CCTV is now a must. There have been some horrendous cases gone to the courts and reported in the media. Let's get CCTV in care homes and stop this poor treatment."
Lisa's campaign is being backed by Hudgell Solicitors, who have supported Lisa in bringing the matter to the national spotlight by backing the petition as part of their on-going Love Our Vulnerable and Elderly (LOVE) campaign.
It follows an increasing number of cases in which concerned families have caught care home staff either abusing or neglecting their loved ones by secret filming and recording. Hudgell's have also represented a number of families who had turned to secret filming and recording.
It also came after an independent survey revealed eight in 10 people would be prepared to allow their loved one to be filmed in care, 24 hours a day, to protect them from abuse and neglect.
In May the case of 85 year old Freda Jobson hit national media headlines and was featured on national television, as her family revealed how she had not only been subject to ill-treatment through care home staff mocking and taunting her, but also had the worst level of pressure sores, leaving her skin 'looking like raw meat'.
The shocking details and pictures of Freda's injuries led to thousands more people signing the petition, and solicitor Lauren Dale says there is growing support for CCTV as more cases are highlighted.
"Our campaign has called for CCTV in all care and residential homes across the UK which is able to record footage in all areas used by residents, for the protection of both residents and the home operators themselves," she said.
"We believe that, in light of the increasing number of care home abuse cases handled by our team of solicitors, and reported on in the national media, there is genuine evidence that such measures are needed.
We know there are many areas which will need carefully considering, but the time has now come for this matter to be seriously debated and considered in parliament.
"This campaign is not just about CCTV, it is about ensuring care for vulnerable people at the latter stages of life is provided with love, respect and dignity. That is not happening far too often, and that is simply unacceptable."