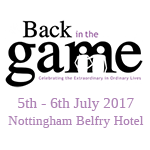 Celebrating the extraordinary achievements of people who have overcome significant injury to lead ordinary lives, Bush & Company's third annual conference will take place on 6 July 2017 at the Nottingham Belfry Hotel.
As the largest and fastest growing provider of expert witness and case management services in the UK, Bush & Company is bringing together inspiring speakers from the sports, bionics and robotics, advanced prosthetics and legal sectors. Sharing the latest research, developments and technologies that are helping people with injuries get 'Back in the Game', the conference promises to be informative and inspirational, as well as a great opportunity to network with a diverse range of 'on the ball' experts who work within the industry.
Dr Mike England, Director of the Injured Players Foundation at the Rugby Football Union, will be kicking off the programme with the latest developments in the pitch-side management of concussion, while consultant psychologist Dr Jonathan Katz, the national lead for psychology with the British Paralympic Association will explain how people can regain a sense of self through parasport.
Delegates will learn about classifications for British Paralympic swimming from Bush & Company's case manager Julie Styles-Cooper, the impact of bionics and robotics in spinal cord injury from Clinical Director of PhysioFunction, Jon Graham, and then hear the parents' perspective from Claire Woods.
Former England rugby player Matthew 'Hambo' Hampson, who is a C4/5 tetraplegic as a result of an injury in 2005, will provide an inspirational start to the afternoon session, describing first-hand his battle to live as normal a life as possible, after his catastrophic sports injury on the training field. It's a chance to hear about his decision to found the Matt Hampson Foundation and his dream to build the ground-breaking Get Busy Living Centre.
Scott Richardson from PACE prosthetics and para-triathlete Andy Lewis MBE will share the latest advances in prosthetics and their potential impact on day to day life, before concluding the conference with a provocative medico-legal debate on the impact of technological advances featuring both a defendant and claimant lawyer.
Helen Jackson, Managing Director of Bush & Company said: "Our annual conference brings our case managers, expert witnesses and legal clients together to share knowledge, best practice and experiences. This year's programme blends specialist research and real-life stories to shine a spotlight on the struggles and opportunities for people who suffer catastrophic injuries, helping us further improve the independent, expert service that we offer our clients. We're grateful to our conference sponsors and pleased to welcome a diverse range of exhibitors. For the first time, we will also be hosting a Gala Dinner Dance where we'll be raising money for the Paul Bush Foundation Trust."
The Gala Dinner Dance will precede the conference on 5 July 2017 and features live entertainment and a charity raffle in aid of the Paul Bush Foundation Trust. The conference will be supported by exhibitors GM Coachworks, Innovate Healthcare, Kain Knight, UK Medical Diagnostics, OpeMed, Snap Care, Krysalis and VP Complex Care, with more exhibitors being announced over the forthcoming weeks.
Delegate places are available at http://www.bushco.co.uk/events/ and for more information about the conference as well as sponsorship and exhibition opportunities, please contact Caroline Godsell at This email address is being protected from spambots. You need JavaScript enabled to view it..