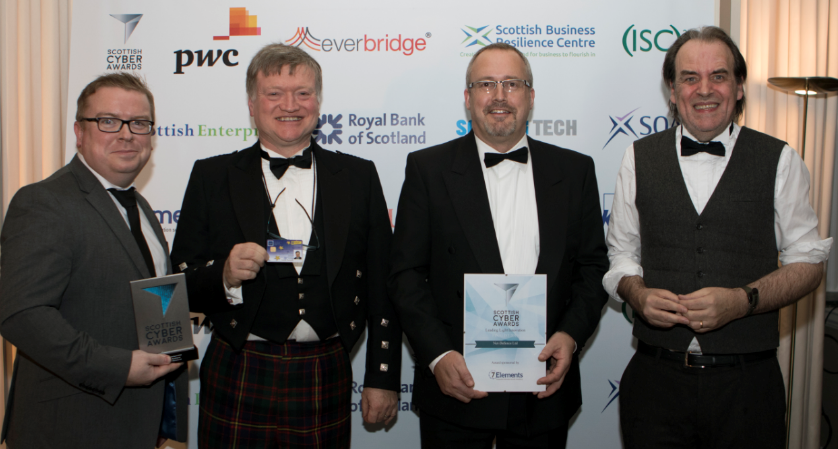 The Law Society of Scotland has scooped a top honour for its 'Smartcard' initiative which offers law firms a robust and reliable confirmation of credentials, helping reassure the public they are consulting with a trusted legal advisor.

The professional body – which currently has over 11,000 members - was named winner of the Leading Light Innovation Award at the inaugural Scottish Cyber Awards, ahead of fellow finalists: Net-Defence and Payfont.
Lorna Jack, Chief Executive of the Law Society of Scotland, was pleased to see the society recognised for their work in reassuring clients and expediting processes like submissions to courts and tribunals.
She said: "We are absolutely delighted to have won this award and it actually came as quite a shock. To accomplish this at the first Scottish Cyber Awards is extra special.
"The Smartcard is a major part of the work we are doing to help our members protect themselves and their clients from cybercrime and we are very proud that our work has been recognised with this award in what was a very competitive category."
The card, which also allows instant international client transactions, instant missive exchange and client competition is available to solicitors holding a current practising certificate.
The awards, hosted by the Scottish Business Resilience Centre and supported by Scottish Enterprise and PwC, celebrates the excellent work of the IT sector in Scotland – such as the ground-breaking work taking place at major organisations, by individuals in the education sector, as well as within Scotland's many fast-moving smaller firms

Chief Executive of the SBRC, Mandy Haeburn-Little, said: "The night was a superb showcase of talent in what is a growing and increasingly vital part of the Scottish economy as the threat of cyber crime impacts every single person.
"Scotland has a proud history of innovation and we are making great strides to continue this tradition by becoming an international leader in cyber resilience - and to seize the opportunities that being at the forefront of cyber security can bring to our nation."
The awards saw winners from across the country with businesses and individuals from Glasgow, Dundee, Ayr and Stirling picking up gongs with Edinburgh scooping seven of the 11 prizes on offer.
Colin Slater, partner and cyber security lead in Scotland for award sponsor PwC Scotland, said: "It's reassuring that while cyber security may be a nascent sector in Scotland, it has a strong bedrock to build from in the future.
"We need people like the entrants not only to raise the standard for those who follow but to be the ambassadors, encouraging interest and adoption at all levels - cyber security is only as good as its weakest point and together we can make that weakest point a tougher nut to crack."
As the first awards to recognise Scotland's ever-growing reputation as a world leader in countering the threat of cyber crime, the Scottish Cyber Awards aimed to showcase Scotland's commitment towards the cyber security excellence and acknowledge the place Scotland has within this industry.
The awards were timed around the anniversary of the launch of the Scottish Government's national Cyber Resilience Strategy, which enshrined the ambition that Scotland should become a lead nation for cyber resilience. The ceremony will also become a core part of an ongoing cyclical programme of cyber activity including an annual cyber conference and the well-established Christmas lectures for schools.
SBRC is taking forward the scoping of the concept of a cyber hub for business in Scotland which would act as one trusted source of advice and cyber security services at an affordable cost.
The full list of winners:
Champion of Champions – ZoneFox (based in Edinburgh)
Best Cyber Start Up – Net Defence (Stirling)
Best New Cyber Talent – Harry McLaren, ECS (Edinburgh)
Cyber Evangelist of the Year – Bill Buchanan, Edinburgh Napier University
Leading Light Innovation – The Law Society of Scotland (Edinburgh)
Outstanding Woman in Cyber – Dr Natalie Coull, Abertay University (Dundee)
SME Defender of the Year – 7 Elements (Edinburgh)
Community Impact Award – Glasgow Caledonian University
Collaboration with Police Scotland – Edinburgh Napier University vSoc/DFET
International Contribution to Cyber Security – ZoneFox (Edinburgh)
Cyber Teacher of the Year – Scott Hunter, Kyle Academy (Ayr)