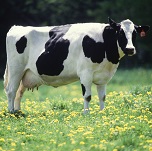 A consultation is being held by the Department for Environment, Food and Rural Affairs (DEFRA) on additional measures to strengthen bovine TB cattle controls to prevent the spread of the disease.
The consultation was launched on 11 June, when statistics were published showing the rate of new herd infections at its lowest point for 10 years.
The latest statistics show that the monthly incidence rate, which is the proportion of new outbreaks discovered through testing, was around 3.25%. That is the lowest rate since 2004 and follows a similarly low rate in February of 3.5%.
Farming Minister, George Eustice said: "[The] statistics show that the controls in our bovine TB eradication strategy are beginning to make a difference and the further measures announced today will help even more to bring this devastating disease under control.
"However, we cannot become complacent. The impact of bovine TB on our cattle farmers, their families and their communities cannot be overstated. That is why we must do everything we can to reach our aim of making the whole of England TB free."
The consultation proposes the removal of pre-movement exemptions for cattle moving between several holdings under the same farm ownership, known as Sole Occupancy Authorities. That will remove the possibility of some cattle keepers in the high risk and edge areas moving their animals over long distances without any TB testing. There will still be the ability to move cattle between areas of owned land within 10 miles.
Since 1 January owners of herds who fail to complete their TB surveillance test on time risk seeing their CAP scheme payment reduced, even if the test is delayed by only one day. The consultation also sets out the intention to extend that approach to also include TB tests in restricted herds.
According to DEFRA: "Our current approach has already helped achieve a 60% reduction in late TB surveillance tests this year. As is the case now, farmers will not be penalised where there are good reasons for missing a TB testing deadline."
Defra also confirmed that from 1 October it will no longer allow the partial de-restriction of TB-breakdown holdings. That means that from that date movement restrictions will apply to all cattle on a farm until all the animals have achieved officially TB-free status. There are a number of options available to cattle keepers to help manage the impacts of the change. For example, cattle farmers with separate cattle management groups could consider registering some cattle under a separate county parish holding so that if TB is found in just one group the number of cattle subject to movement restrictions could be limited.
The consultation ends at noon on 11 July.