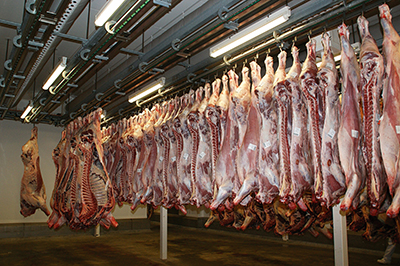 With consultation on CCTV in slaughterhouses closing on 22 September, the Scottish Government has announced plans to introduce a similar consultation as part of its Government Programme for Scotland 2017/18.
The decision has been widely welcomed by the veterinary profession and follows campaigning to include the measure in Scotland alongside the model for England announced by Michael Gove in August.
Melissa Donald, president of the Scottish branch of the British Veterinary Association (BVA), said: "We're delighted that the Scottish Government is looking seriously at introducing mandatory CCTV in abattoirs.
Although a high percentage of abattoirs in Scotland already have CCTV, there are no rules governing how the footage is used or kept, and it is essential that Official Veterinarians have unrestricted access so they can fully monitor animal health and welfare throughout the slaughterhouse.
"Following Defra's announcement last month I wrote to the Cabinet Secretary urging the Scottish Government to follow Defra's lead in order to maintain Scotland's reputation for high animal welfare from farm to fork."
Environment Secretary Michael Gove announced the consultation as part of a series of measures to strengthen animal welfare standards in England.
The proposals are aimed to deliver a manifesto commitment for CCTV to be required in every slaughterhouse in England in all areas where live animals are present, with unrestricted access to footage for Official Vets, thus reassuring consumers that high welfare standards are being effectively enforced.
Michael Gove said: "We have some of the highest animal welfare standards in the world and the actions I am setting out today will reinforce our status as a global leader. As we prepare to leave the EU, these measures provide a further demonstration to consumers around the world that our food is produced to the very highest standards."
Under the new plans for CCTV, footage would be accessible to the Food Standards Agency's (FSA) Official Veterinarians (OVs), who monitor and enforce animal welfare standards in the slaughterhouse.
The FSA has strict processes in place for the approval of slaughterhouses and OVs carry out checks to make sure the welfare of animals is protected throughout their time there. If breaches are found a slaughterhouse can be given a welfare enforcement notice, have licences suspended or revoked or be referred for a criminal investigation.
FSA chairman, Heather Hancock, said: "The Food Standards Agency takes a zero tolerance approach to any breaches of animal welfare standards in slaughterhouses. Last year we concluded that it was time to make CCTV compulsory in slaughterhouses, progress on voluntary adoption having plateaued.
"I and the Board of the FSA warmly welcome Defra's consultation about making CCTV mandatory. We look forward to the introduction of a comprehensive requirement for using, accessing and retaining footage from CCTV in abattoirs. We see CCTV as an invaluable management tool for business owners to help with compliance with official controls and to improve animal welfare standards across the industry."
The BVA has also called on the Welsh Government to implement a similar proposal. The president of its Welsh branch, Sarah Carr, declared: "We were disappointed last year that the Safeguarding Animal Welfare at Slaughter Task and Finish Group's report concluded that there was not a 'sufficient basis' for making CCTV in Welsh abattoirs mandatory. With plans now underway to introduce mandatory CCTV in all slaughterhouses in England, with full and unrestricted access to footage for Official Veterinarians, we are urging the Welsh Government to implement concurrent measures in Wales."
The UK Government has also confirmed it will raise standards for farm animals and domestic pets by modernising statutory animal welfare codes to reflect enhancements in medicines, technology and the latest research and advice from vets. The codes will remain enshrined in law and the first to be updated will cover chickens bred for meat.
A consultation on the Code of Practice for the Welfare of Meat Chickens and Meat Breeding Chickens is running alongside that on CCTV in slaughterhouses and will close on 6 October.