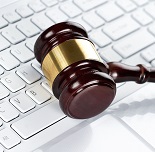 The Government is moving ahead with provisions for all criminal courts in England and Wales to be able to operate completely digitally in two years time.
The plan is that criminal cases will be handled digitally "from the moment a crime is committed through to the conclusion in court".
The process forms the backbone of the Criminal Justice System Digital Business Model, which was launched by the then-Criminal Justice Minister Damian Green in April.
He announced the new model at Bromley Magistrates' Court in South London, which became the first the first in London, and one of the first in the UK, to be equipped with new digital presentation facilities.
Damian Green said at the time that in future every magistrates' court in England and Wales would operate completely digitally, with increased use of remote video links and written evidence and legal submissions being stored securely centrally and accessed by magistrates and legal teams on digital devices, using Wi-Fi connections. Police officers will be able to collect evidence at the scenes of crimes using mobile devices and begin building case files on the beat.
Courts across England and Wales are being upgraded using new funding of £75m a year. That is in addition to £44m already provided for the provision of new IT programmes. The funding will include ensuring all criminal courts can operate completely digitally by July 2016.
The changes are intended to help victims and witnesses by ensuring cases progress as quickly as possible.
The new Criminal Justice System Digital Business Model will link together the different agencies which make up the criminal justice system, including the Police, HM Courts & Tribunal Service and Crown Prosecution Service. It will build on the success of the Criminal Justice Strategy and Action Plan published last summer.
The model includes plans for:
• Police officers to be equipped with the ability to capture evidence digitally at the scene of a crime, taking statements and uploading digital case information using mobile devices without needing to return to the police station.
• Police to be able to capture witness and victims statements electronically on their mobile device or 'bodyworn' video at the scene of the crime where available while the events are fresh in victim's or witnesses' minds.
• A digital system which will mean the police contact the Crown Prosecution Service (CPS) directly for a charging decision. CPS staff will have access to the case information in order to make a charging decision and then process the case. Case information will no longer need to be repeatedly sent to different agencies or professional users either electronically or in paper form.
• Defendants in custody to appear in court via prison-to-court video links for pre-trial hearings, where appropriate, which will remove transport costs and speed-up the justice process.
• Criminal prosecutors and defence lawyers in magistrates' courts to work digitally, presenting cases from mobile digital devices in court instead of bundles of paper files.
• Case information to be viewed digitally by magistrates on digital devices.
• Wi-fi connections to be used to allow professional court users to access their own systems and the internet.
• Digital in-court presentation equipment to display evidence like CCTV, photos or 999 calls.
The strategy also includes a set of principles for how Criminal Justice System agencies will jointly undertake digital reform and transformation in the future. It sets out how the changes will also improve the day-to-day work of police, prosecutors, defence advocates and court staff.
These principles include a commitment to ensure the system operates digitally by default, to make it possible for users to access data from any location or device of their choice, and to ensure agencies operate from shared computer instead of having to send data to each other.
Alcune fanno sorridere, FarmaciaNo1 in Italia comprar generic levitra altre forse disorientare un po': consideratele semplici spunti di riflessione per questioni ben più rilevanti!