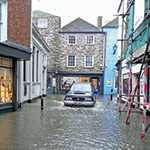 The Law Society has issued a revised Flood Risk Practice Note to solicitors, reflecting increased concerns over homes and businesses in flood-prone areas. The practice note covers the issues and resources that solicitors need to be aware of when acting for buyers: from Environment Agency flood maps and specialist surveys to insurance.
The Environment Agency estimates that one in six homes in England – 5.2 million – are at risk from flooding. In Wales, more than 200,000 properties are at risk from sea or river flooding and 230,000 properties are at risk from surface water flooding.
In December last year, 16,000 properties were flooded in England following storms that hit over the Christmas period, as well as earlier in the month.
Solicitors play a vital role in the home and business-buying process, the Law Society said in a statement, and they help to protect buyers by alerting them to the most important issues relating to a property, including the risk of flooding.
Law Society president Jonathan Smithers, who in his practice has specialised in property work for many years, said: "Flooding is a growing risk for property in England and Wales. Solicitors help clients investigate the environmental threats to their property. This revised practice note is a condensed toolkit for all solicitors advising buyers about flood-prone properties."