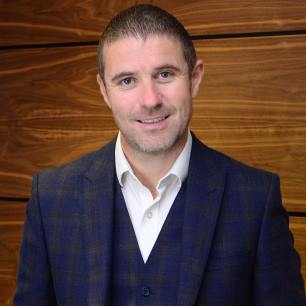 Lawyers must adopt a pro-active approach in their on-going support of seriously injured clients, taking ownership of assessing the impact of rehabilitation.
Andy Shaw (pictured), of Higgs & Sons, says: "By taking this action approach, the lawyer will ensure that everyone engaged in the client's rehabilitation can show that the support and treatment provided has best met the client's needs to maximise the rehabilitation outcomes."
Patient reported outcome measures, or PROMS, are an essential requirement in all areas of healthcare in determining the impact of treatment. These measures are routinely used in treating those with long-term neurological conditions, such as stroke and traumatic brain injury.
A Partner at the West Midlands' firm, Andy added: "Lawyers who support seriously injured clients need to ensure that case managers and therapists providing treatment for clients use outcome measures to demonstrate the value added by the treatment. Those measures should supplement SMART goals aligned to the client's rehabilitation objectives."
What is an outcome measure?
An outcome measure is a test that objectively determines the baseline function of a patient at the beginning of treatment and, once treatment has begun, that same test is used again to determine progress and the treatment's efficacy.
An example is the Bergs Balance Scale (BBS) which measures static and dynamic balance among older adults. The BBS is a qualitative measure that assesses balance by how a person performs functional activities such as reaching, bending, transferring, and standing. Each item is scored along a point scale ranging from 0 to 4 with zero indicating the lowest level of function and 4 the highest level of function.
Why use outcome measures?
Using outcome measures facilitates comparisons of healthcare performance across countries and services. Within the UK, the National Health Service Outcomes Framework measures NHS performance and supports quality improvement throughout the NHS.
For patients who are receiving private treatment funded by an insurer under the Rehabilitation Code 2015 following an accident, it is essential that outcome measures are used to demonstrate the value of the services being provided. Without such measures, a Defendant and ultimately the Court may determine that the treatment provided was excessive. While ordinarily the Defendant insurer carries the risk of paying the cost of excessive or unnecessary treatment
The difficulty with outcome measures
One of the main challenges with using outcome measures is the sheer number of outcome measures available. Guidance on how to select the most appropriate measure is provided by statutory healthcare policies and their associated outcome measure requirements. For example, the UK National Service Framework for Long-term Neurological Conditions has an online dataset that distinguishes between measures required for different settings eg neurology clinic or ward, neurosurgery, inpatient neuro-rehabilitation, community rehabilitation, vocational rehabilitation or palliative care.
In addition, several UK rehabilitation organisations have produced specific recommendations regarding outcome measures. The British Society for Rehabilitation Medicine publish a 'basket' of recommended outcome measures for rehabilitation. They recommend that services select measures from this basket according to whether impairment, activity or participation is being evaluated, the condition treated, the treatment setting and purpose of measurement eg clinical or research.
The UK Rehabilitation Outcomes Collaborative has also developed a national clinical database for rehabilitation to evaluate rehabilitation inputs provided to meet needs and outcomes of specialist inpatient rehabilitation services. UKROC recommends that in addition to the psychometric requirements of good reliability, validity and scaling, outcome measures must be easy to use and interpret, sensitive to changes over time and differences between clients.
Finally, there are also condition-specific recommendations for outcome measures to be considered.
Added Andy: "Having selected the appropriate measures, the second challenge is how to gather data that is meaningful for evaluating a service and monitoring individual patient progress with the patient, family and rehabilitation staff.
"There is of course a danger in using outcome measures exclusively to determine whether treatment should continue to be funded. Considerations such as the risk of regression need to be taken into account when deciding whether treatment frequency will be reduced or completely withdrawn.
Andy concluded: "Lawyers must be alive to the need of ensuring that a client is receiving appropriate treatment. It is simply not enough to engage a case manager to manage treating therapists.
"The lawyers should look to identify when outcome measures should be used in conjunction with SMART goals and be prepared to ask the case manager to ensure that treatment providers use appropriate PROMS when preparing the initial and subsequent assessments."