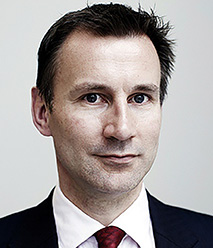 New Government proposals for fixing legal fees in medical negligence cases have been given a cautious welcome by lawyers.
The proposals, currently out to consultation, are for a fixed cap on all clinical negligence cases up to £25,000. The aim, says the Department of Health, is to prevent rising litigation costs within the NHS. Currently, there is no limit on legal costs that can be recouped. It is expected the new cap will save the NHS up to £45m a year.
The department cites an instance where costs of £83,000 were claimed for a case in which the patient was awarded £1,000. The total bill for the NHS was £1.5bn in the financial year 2015-16.
Announcing the proposals, Health Secretary Jeremy Hunt (pictured) said: "It's important that, when significant mistakes happen in the NHS, patients are able to have an open dialogue with a trust about what went wrong, receive reassurance of what is being learnt and can discuss what form of recompense or redress may be appropriate. Legal action should only be one part of this process.
"Unfortunately, what we often see in lower cost claims is a deeply unfair system where unscrupulous law firms cream off excessive legal costs that dwarf the actual damages recovered. We believe this creates an adversarial culture of litigation, which is inflating insurance premiums and drawing away resource from the NHS at a crucial time."
The proposals are not as draconian as originally mooted: a fact that prompted the warmer-than-expected reception from personal injury lawyers.
APIL president Neil Sugarman said: "The fact that the Government has decided to tone down its original plans will come as a relief to injured patients. Earlier ideas to fix legal fees in cases up to £100,000 or even £250,000 in value were far too radical, and would have put injured people into legal straightjackets when all they desperately want is to get their lives back on track after needless medical blunders.
"A fixed fee regime for more straightforward cases could be workable, but the priority has to be the development of a quick and efficient system. It should then be possible to fix legal costs to reflect the speed and efficiency of the new process.
"We now have an opportunity to continue our work with the Department of Health to try to ensure the legal process works properly and that patients will be able to obtain the legal help they need.
"Above all, we need an end to the 'deny, defend and delay' approach by medical professionals when something has gone wrong, which is all too common. It makes legal proceedings take far too long, generates unnecessary cost and untold human misery for those who have been injured."
The proposals were also welcomed by many in the NHS. One view was put by Andrew Foster, chief executive of Wrightington, Wigan and Leigh NHS Foundation Trust.
He commented: "The introduction of a fixed recoverable cost for lower value claims would support more proportionate payment to claimant lawyers – which alongside improvements to the system should make things quicker and better for patients. This seems fair and appropriate, recognising this all comes out of the NHS pot. Less money spent on legal costs will mean more to put into improved patient care at a local level."
Neil Sugarman concluded: "The best way to cut costs is, of course, for the medical profession to learn from its mistakes and prevent needless injury from happening in the first place and we welcome the fact that this is acknowledged at the outset of the consultation document. But when the worst happens, a quick and efficient route to compensation to help people get back on track is the very least patients should be able to expect.

"We look forward to playing our part in this consultation process."

The consultation ends on 1 May.