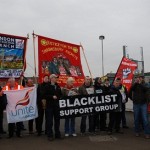 A case brought against construction giant Carillion in the so-called 'blacklisting' affair will be subject to a full two-day hearing in front of a High Court judge, it has been decided.
The decision was made by Mr Justice Singh at an Employment Appeal Tribunal hearing in London, in the case brought by electrician Dave Smith. The judge noted that the case could have a legal importance "going well beyond this case or even blacklisting".
John Hendy QC, acting for Mr Smith, argued that the original tribunal decision to dismiss Mr Smith's appeal for unfair dismissal – in essence that Carillion was not liable because he was employed by an agency – is in violation of the Human Rights Act and Articles 8 and 11 of the European Convention on Human Rights and that these pieces of legislation should apply to all 'workers' and not just direct employees.